No one does online casino fun better than HarrahsCasino.com! Backed by the industry leader in gaming, Caesars Entertainment, HarrahsCasino.com brings all the thrills and excitement of your favorite Harrah's Casino right to your computer, laptop or mobile. No download is needed*, simply click here to launch HarrahsCasino.com in your web browser.
Create Your HarrahsCasino.com Account:

Click here to launch HarrahsCasino.com in your web browser. Click the Sign Up Here! Link to begin the registration process. Fill in your personal information, account details and contact information, accept the Terms and Conditions and then click Create my account.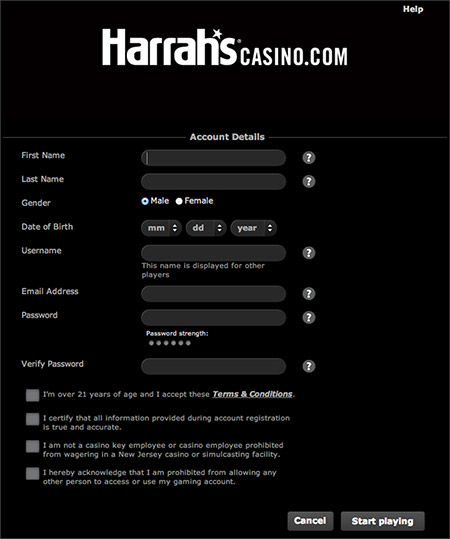 Write down your new username and password and click Log In.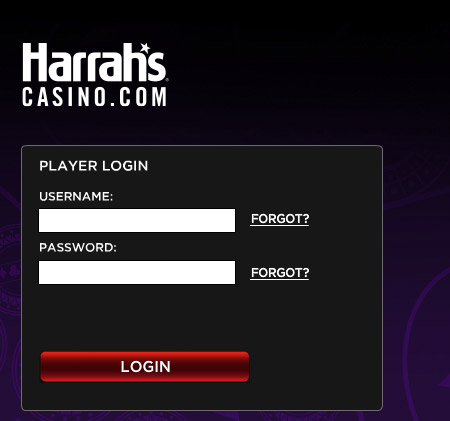 You will now be taken to the casino lobby.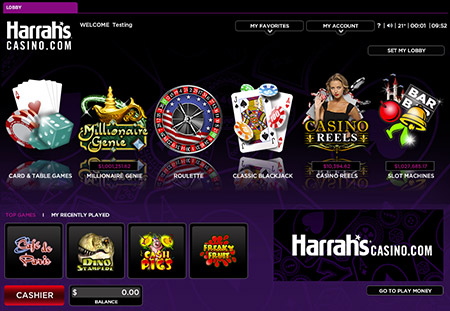 Click on the Cashier to make a deposit to your new HarrahsCasino.com account. Once you've deposited, select any of HarrahsCasino.com's exciting games and let the fun begin!

Frequently Asked Questions
I'm Geo-blocked, what can I do?
The New Jersey Division of Gaming Enforcement requires us to geo-locate you to make sure you're in the state of New Jersey to play for real money. If you're getting a "Players outside of New Jersey cannot play for real money. You can cash out your funds at any time." message, try the following:
Are you located inside the state of New Jersey? All real money players must be physically located inside New Jersey to play.
Check to make sure you're connected to the Internet via an Ethernet cable or WiFi connection. Is your Ethernet cable connected properly? Is your Wifi turned on?
Check to make sure your WiFi switch is on (usually on the side of your laptop computer) and that you can see at least three network connections. You do not need to be connected to a WiFi network; you just need to be able to see them in your network connections.
Check your ip address is coming from New Jersey. Some Internet providers utilize ip addresses from outside the state. Click here and/or here to see if your ip address is listed as New Jersey (Please note the whatsmyip sites are not 100% accurate). If your ip address shows as being out of state, you will need to use another Internet connection source, perhaps a local café or restaurant where the ip address is listed as being in New Jersey. You may also notify your Internet Service Provider.
Make sure you aren't running any "remote software" – programs that allow you to access your computer remotely such as VPN or other software
Why can't I log into my account?
Remember that your password is case sensitive, needs to be 8-12 characters, and must contain at least 1 character, 1 number and 1 special character.
If you've forgotten your username or password, click on "Forgot?" enter your email address, follow the online instructions to receive an email link to reset your password or receive your username.
Why can't I deposit with my Credit/Debit card?
Regulated online real money gaming is still new and as such, some banks do not allow Internet Gaming transactions.
If you are unable to deposit with a credit card, we suggest you try an ACH (electronic bank transfer), PayNearMe, Online Banking Transfer or deposit cash in person at our Caesars Atlantic City casino cage.
There are also pre-paid MasterCard options that players have found success with, such as the one with the PayPal logo on it.
Where is my withdrawal?
There are currently 4 methods for withdrawing funds – ACH, PayPal, Caesars Online Play+, or in person at the Caesars Atlantic City casino cage.
ACH – The first time you withdraw to a bank account via ACH, we must verify your bank account information. To do this, you will be asked to upload a picture of a voided check or bank statement. Most ACH withdraws complete within 5 business days.
PayPal – With a 3 to 4 day processing time, funds can easily be withdrawn to your personal PayPal account.
Caesars Atlantic City Cage – At this time, this is the only Caesars property in Atlantic City that has a cage option for deposits and withdrawals. Cash at cage withdrawals must now be initiated online. Within 24 hours, if approved, you will receive an approval email and may proceed to the cage with a valid photo ID to collect your cash.