How to Play the Snack Time Video Slot
Snack Time is a 'combo' Video Slot with a Pick Me bonus game and Super/Mega combos + re-spins.
Winnings in this video slot game are based on one to five available combinations and not paylines.
Placing a bet
The bet amount can be changed by clicking on the left and right arrows on the BET buttons.
Clicking SPIN (triangle sign) begins the game.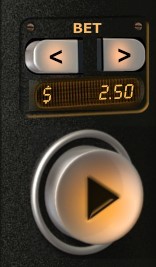 Special game features
Pick Me
When two Pick Me ("?") symbols appear simultaneously anywhere on reels 1 and 5, the Pick Me game is activated. Players must select one of the Pick Me symbols to reveal a prize. All Pick Me prizes are a multiplication of the total bet. Pick Me prizes are added to the combo wins.

Combos

Icon combinations pay anywhere they appear on the reels, and in any direction.
Multiple icon combinations can also appear. Multiple icon combinations award prizes for each of the combos and grant automatic re-spins.
A Super-Combo session is triggered when two combos occur in one spin. A Super-Combo activates one free re-spin. All re-spin wins are added to the Super-Combo win.
A Mega-Combo session is triggered when three combos occur in one spin. A Mega-Combo activates two automatic free re-spins. All re-spin wins are added to the Mega-Combo win.
A Super-Mega-Combo session is triggered when four or more combos occur in one spin. A Super-Mega-Combo activates three automatic free re-spins. All re-spin wins are added to the Super-Mega-Combo win.
Jackpot
Snack Time has two Jackpots. The Jackpot is awarded randomly. No symbol combinations are needed to win it. The higher you bet, the higher your chances of winning.
The jackpots growth rate is 1% of game bets. In addition, the house places a seed amount in the jackpot after every jackpot hit.
Imperfections of internet communications should not affect progressive jackpot fairness or potential jackpot wins. More details can be found here.
Additional instructions
More than one combination can appear in a single spin, granting concurrent wins and re-spins.
More re-spins and Super/Mega combos can occur inside a re-spin session.
Re-spins are played on the bet value of the triggered game.
Max Re-spins is three for four combos or more.
Bet is total bet and not bet per line.
To view the different winning combinations and special features click Paytable ("i") on the machine's buttons panel.
It is possible to verify the total win amount by viewing the Total Win display window.
You can also use the Autoplay option to have the computer spin for you. Choose the number of spins you want to play from the control panel. You can select x10, x25, x50, x75 spins. You can stop Autoplay at any time by re-pressing the Spin button or the Autoplay symbol. Autoplay stops for Free Spins.
Malfunction voids all pays and plays.
Minimum bet: 0.25
Maximum bet: 250
On mobile:
The game rules apply for mobile as well.
"Autoplay" is "Auto Spin" and includes pre- defined values.
Some buttons are displayed as icons.
Minimum bet: 0.25
Maximum bet: 250