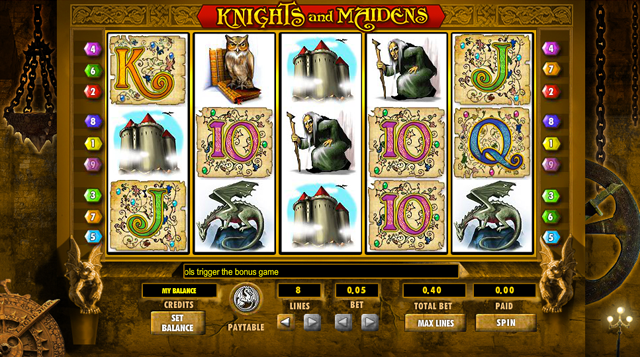 How to Play the KNIGHTS AND MAIDENS Video Slot
Game Characteristics:
This Video Slot has 9 pay lines.
The wild symbol substitutes for any symbol except for scatter and bonus.
The wild symbol by itself does not pay anything.
Three or more Scatter icons activate free spins.
Payout of Free spin winnings is based on the same number of lines and amount as the original bet.
It is possible to win additional free spins during a free spin.
Three or more bonus symbols anywhere on an active pay line trigger the "Cavalier's Quest" bonus game.
If three or more bonus icons occur simultaneously on multiple paylines, a "Cavalier's Quest" bonus game will be triggered according to the number of active lines with three or more bonus symbols. E.g. 5 active lines with 3 or more bonus icons = 5 bonus games.
In the bonus game, the player encounters up to five magical challenges on the path to rescue the fair maiden. Upon choosing the "Game Over" icon in one of the bonus game challenges, the bonus game will end.
All wins during a bonus game are cumulative and are multiplied by the bet per line amount.
Finishing all Bonus selections successfully will add random amount of points to the Bonus points. The extra Bonus points will be multiplied by bet per line.
4 Bonus symbols anywhere on an active payline multiply all bonus game wins by 5.
5 Bonus symbols on an active payline multiply all bonus game wins by 25.
Minimum bet: 0.05 X 1 payline
Maximum bet: 10 X 9 paylines
General instructions for all video slot machines:
All symbols pay left to right on consecutive reels of an active payline (starting with the leftmost reel). In some games scatter and bonus symbols are paid anywhere on the reels.
All wins are multiplied by the bet per line, except for scatter wins which are, instead, multiplied by the total bet (depending on game).
Scatter and Bonus wins are paid in addition to payline wins.
Only the highest win will be paid on each of the active paylines.
To bet the maximum lines allowed (amount differs between machines), click MAX LINES. This will automatically spin the reels for you and the bet will be wagered.
In some games you can click on MAX BET to maximize both lines and bets per line.
Please note that some games do not have Max lines or Max Bet options. In this case, you must manually select your lines and bet per amount, and then click Spin.
To view the different winning combinations and special features click PAYTABLE or Info on the machine's button panel.
Wins on different pay lines are added together.
Malfunction voids all pays and plays.
On Mobile
The game rules apply for mobile as well.
On mobile the bet is determined for total bet – there is no denomination selection per line.
"Autoplay" is "Auto Spin" and includes pre- defined values.
On mobile the number of paylines is different from PC and is fixed to 25 lines.
Minimum bet: 0.05 X 25 paylines
Maximum bet: 10 X 25 paylines